Specialist Glass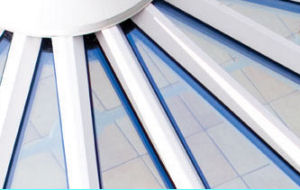 Sunshade Blind Systems can supply units made with Pilkington Activ™ glass. No more do you have to worry about cleaning the outside of your windows. Pilkington Activ™ glass uses 2 actions to allow self-cleaning:
When dirt falls onto the window, a photocatalytic cleaning process takes place. The coating reacts with sunlight to break the organic dirt down.
The next stage uses the natural processes of rain to interact with the unique capabilities of the surface. The rain does not form droplets, but spreads evenly in a sheet of water that washes away the loosened dirt. It does not leave streaks and it dries quickly because the water naturally runs off quickly. Better than that it does not leave streaks.
Pilkington Activ™ is ideally suited for use in large glazed areas and conservatory sides. It is a revolutionary glass that is self-cleaning and has great solar control properties. Pilkington Activ™ will help keep your Conservatory:
Cooler – It has fantastic solar control performance. This helps you to keep your conservatory temperatures cooler but still maintain a very light and airy appearance.
Clean – As keeping your conservatory cooler, Pilkington Activ™ Neutral also gives you excellent views of your garden all year round. Pilkington Activ™ uses UV rays and rainwater to break down and wash away organic dirt from exterior surfaces. This makes it ideal for hard to clean areas like conservatories.